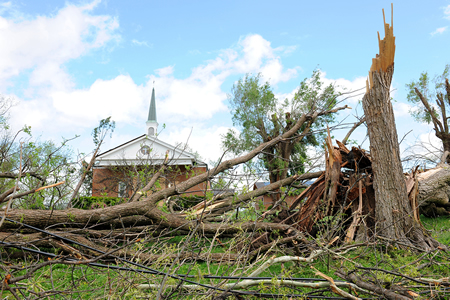 Our professional storm and hurricane cleanup service will relieve a big portion of the stress caused by severe weather conditions. Storm cleanup requires special skills, resources, and a lot of hard work. Carolina Lawn's experts will help to restore your yard quickly and efficiently.
Storm cleanup is usually a much more extensive project than regular debris removal. In addition to clearing your outdoor property of branches, leaves, and other mess left by the storm, we will ensure that all standing water is drained off and that the drainage system is not blocked. We will clean mud and dirt off your yard and restore your landscape. But most importantly, we will ensure that your outside space is safe again by trimming damaged trees and shrubs. Furthermore, we will check your outdoor area for erosion and help you tackle this problem, if any is found.
For our commercial customers, we also offer our storm water BMP maintenance services.
Whether you're a residential or a commercial client, you've got access to the lawn care and landscaping knowledge and expertise that Carolina Lawn Service & Maintenance provides all of our customers.
We're committed to providing 100% customer satisfaction.
Contact us to get a free quote.