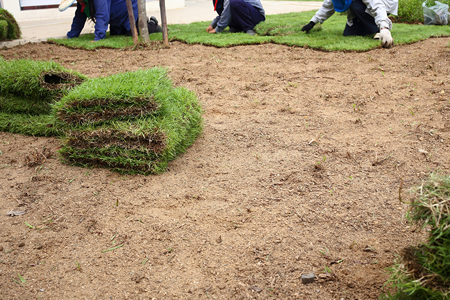 Sod (also known as turf grass) is a layer of soil with grass growing on it. Sod is held together by roots or other thin materials and sold in sections. This material is often preferred over seed for a more even and lush lawn. However, there are good arguments for using both. Mainly, our customers choose sod when they want to have their lawn quickly. It takes root faster than seed and can be laid any time of the year, so you don't have to wait for the right season like you do with seed. Moreover, sod helps prevent weeds and requires less watering than overseeding only.
Seed has advantages too: it's cheaper and easier to spread. We recommend using seed on hilly and shaded areas. Read more about our seeding and aeration services.
Whether you're a residential or a commercial client, you've got access to the lawn care and landscaping knowledge and expertise that Carolina Lawn Service & Maintenance provides all of our customers.
We're committed to providing 100% customer satisfaction.
Contact us to get a free quote.