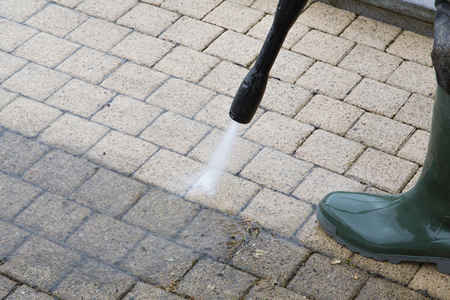 For our pressure washing services, we're using cleaning agents that are safe on outdoor surfaces, but kill all the dirt, mold and mildew.
We offer pressure washing services on many different surfaces: house, deck, driveway, fencing, sidewalk, playground – just to mention a few.
When a surface such as a driveway or a deck is not cleaned regularly, it becomes a major source of dirt, grime, mold spores and trillions of harmful bacteria that you bring into your home on the soles of your shoes or your pets' paws. Try our professional pressure washing services and see the difference and enjoy the benefits of a clean and beautiful outdoor space. We use environment-friendly chemicals and variable speed cleaners to remove the dirt, mold, and mildew from concrete, wood, and other common outside surfaces.
Whether you're a residential or a commercial client, you've got access to the lawn care and landscaping knowledge and expertise that Carolina Lawn Service & Maintenance provides all of our customers.
We're committed to providing 100% customer satisfaction.
Contact us to get a free quote.